I teach English at Fullerton College. This semester, because my students are writing about local issues, I have been taking them on field trips. We did a walking tour of public art in the area. Last week, we took a field trip to the Health Fair on campus, as it hi-lights various local social services.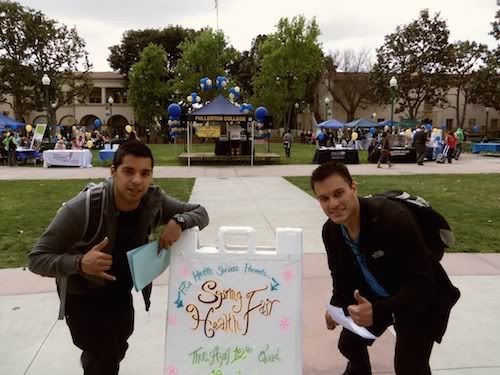 As part of the field trip, I asked my students to interview someone at a booth of their choice. Here are some of my students interviews...
YOUNG WOMEN'S CHRISTIAN ASSOCIATION (YWCA)
Q: What services does the YWCA offer?
A: Free breast exams, recreational activities, DIY (do-it-yourself) workshops.
Q: What is the benefit of YWCA to the community?
A: It empowers women, provides services to low income women, spreads awareness about important issues.
FULLERTON POLICE DEPARTMENT
Q: About how many DUIs does Fullerton have a week?
A: We have a lot.
Q: Do you think you have so many DUIs because of all the bars downtown?
A: Yes.
AIDS SERVICES FOUNDATION OF ORANGE COUNTY (ASF)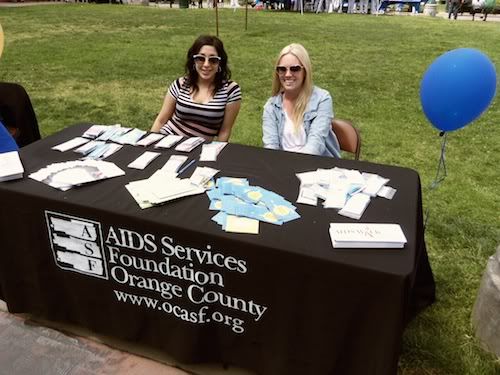 Q: How long has ASF been helping people with HIV/AIDS?
A: ASF has been helping people for 25 years.
Q: What is the main goal of ASF?
A: Our goal is to help our clients live longer and more productive lives, and to raise awareness about HIV/AIDS.
Q: What is one way ASF helps raise awareness about HIV/AIDS?
A: we have speakers who are HIV-affected who share their stories with various groups.
Q: Is ASF a for-profit or non-profit organization?
A: ASF is the largest non-profit provider of HIV/AIDS services in Orange County.
Q: What are some of the services ASF provides?
A: We provide HIV testing, benefits counseling, financial assistance, housing and transportation services...
PLANNED PARENTHOOD
AND
WOMEN INFANTS AND CHILDREN (WIC)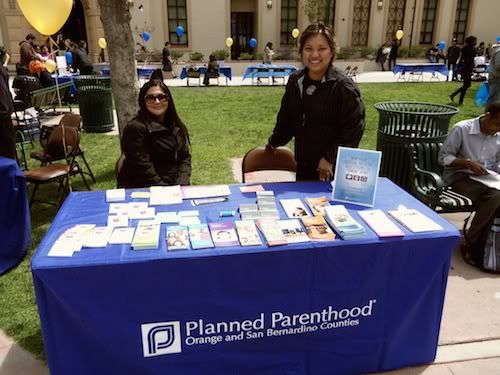 Q: What age group do you provide services for?
A: We help men and women from ages 5-50 years.
Q: Do you provide educational services for teens?
A: Yes, for both girls and guys. We educate them on safe sex and sexually transmitted diseases.
Q: What other types of services do you offer the community?
A: We offer health services like monthly check-ups, pregnancy testing, sexually transmitted disease treatment, breast cancer exams. We also have Women Infants and Children (WIC) centers and educational classes for teens. We are donation-based for low income patients.
Q: Is Planned Parenthood government-funded?
A: Yes, we also get grants from the state, but recently Orange County cut us out. And now the federal government is also looking to cut our grants due to all the politics around abortion (about 3 percent of what Planned Parenthood does).
Q: Have you had to close facilities?
A: No, but we have cut back on staff due to the lack of funding.
Here are some other organizations that were present at the Health Fair. Click the name to learn more about what they do.
NATIONAL MARROW DONOR PROGRAM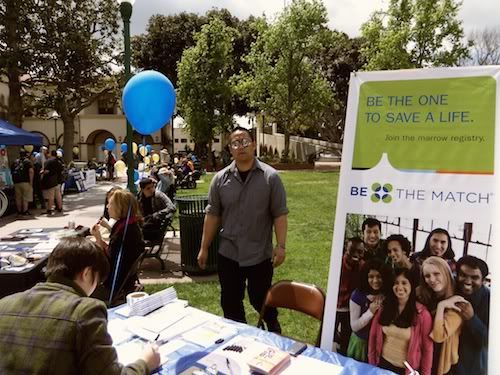 SUSAN G. KOMEN FOR THE CURE (BREAST CANCER)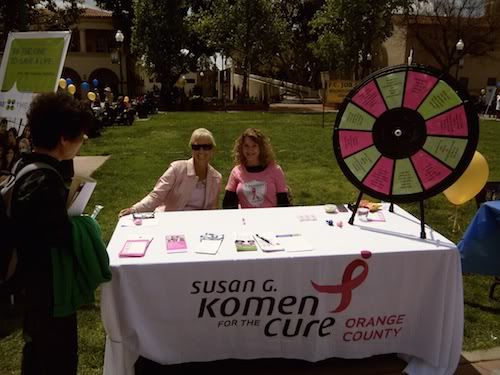 LEGAL AID SOCIETY OF ORANGE COUNTY
ALCOHOLICS ANONYMOUS (ORANGE COUNTY)
LA FAMILIA FAMILY TREATMENT SERVICES
SHANTI (ORANGE COUNTY)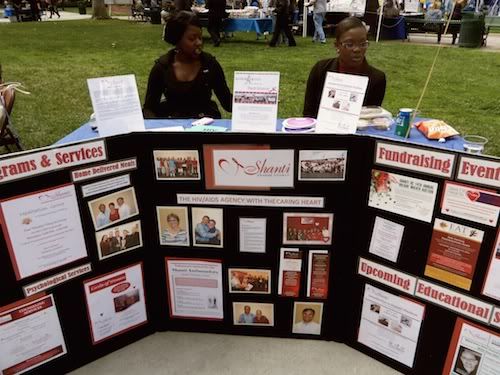 THE COALITION OF ORANGE COUNTY COMMUNITY HEALTH CENTERS