Yorba Linda is not a city I hang out in much. There's not much to do in the self-proclaimed "land of gracious living" except stare blankly at suburban housing and shopping centers. It's one of the most socially, culturally, and politically insulated cities in Orange County.
The 1914 deed of Frank Nixon's property in Yorba Linda
read "That no part of said premises, or the improvements thereof, shall ever be sold or leased to any individual other than of the Caucasian race" and the city has pretty much kept this homogenous makeup to this day. It's like the Bible says, "Nothing good can come from Yorba Linda." Case in point: The Richard M. Nixon Library and Birthplace.
In her book
The Big Orange: The History of Republican Politics in Orange County 1950-2000
, former Republican Party Chair Person Lois Lundberg boasts that the
Nixon Library is the only presidential library built entirely with private funds
, largely OC "good old boys" from the Lincoln Club, one of the more intense Republican campaign bankrolling groups in existence. The Library recently transferred to public hands…hence the new "Watergate" exhibit.
As you might expect, I was not too thrilled to visit the Nixon Library. But my friend Joel Beers, OC Weekly writer, said he'd pay my admission if I accompanied him for a piece he's doing for PBS. What the hell, I thought. It might be good for a laugh. I was not disappointed. First and foremost, the Nixon Library is weird. It's not just the exhibits, but the overall vibe of the place, which is largely celebratory of one of the most notorious presidents in U.S. history.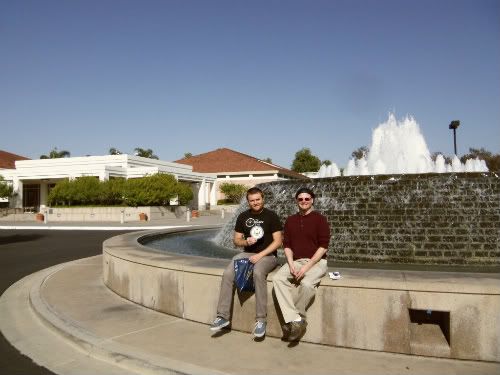 You enter and exit the "Library" through the gift shop, which is admittedly a pretty cool gift shop. Joel got me a "Bush/Quayle '92" campaign button. I'm totally gonna rock that come November.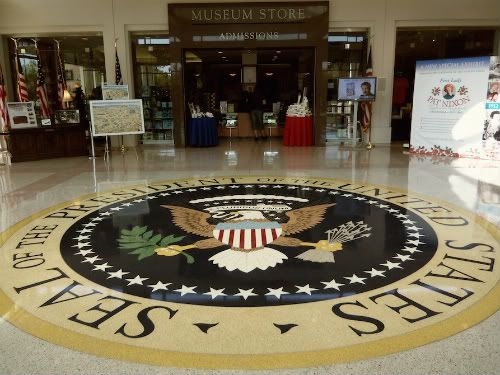 Here are some gems from the gift shop...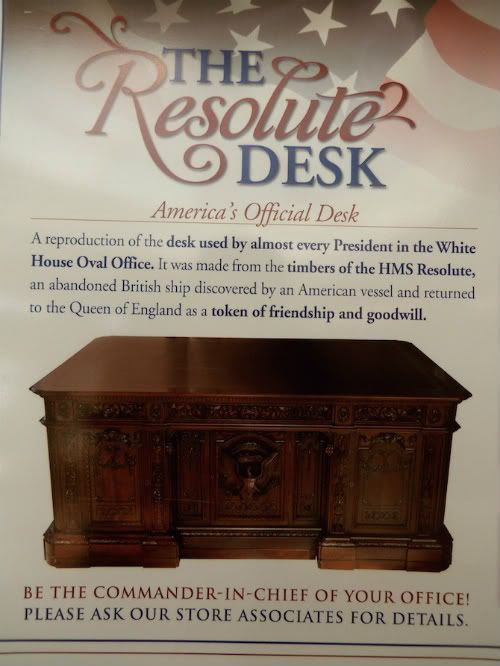 Before entering the first exhibit, you walk through a stately lobby. Joel counted 24 Amerian flags. The first exhibit has to do with Nixon's visit to China and the space program, two positive elements of Nixon's political career. The unspoken message right at the beginning is, "See, he wasn't all bad."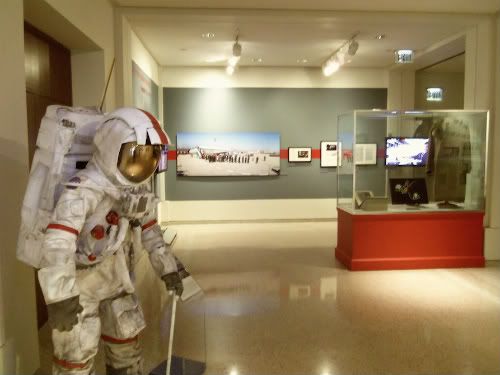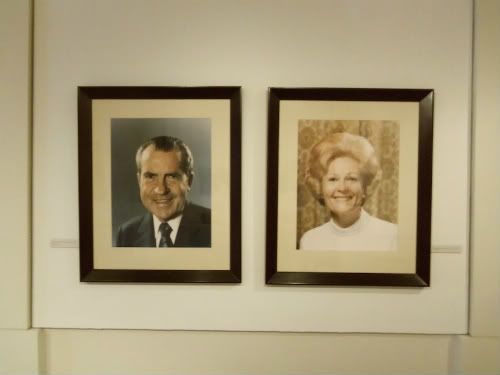 The museum had lots of cool kitschy campaign paraphernalia...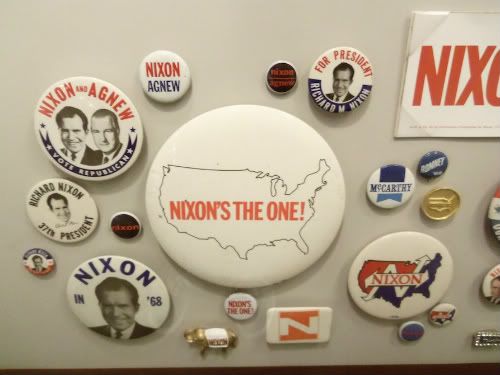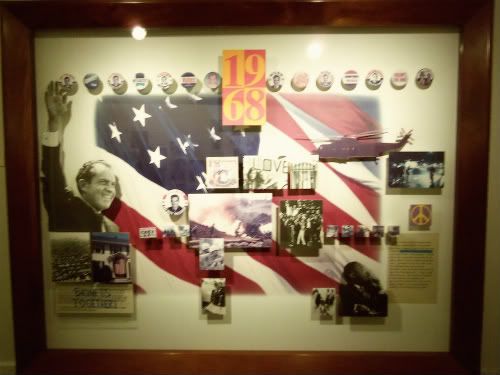 There was a funny exhibit of letters written by children to Nixon after he lost to Kennedy in 1960...
Joel pointed out that one of the things Nixon was known for was foreign relations. Even as a vice president, he was a tireless world traveler and voracious reader. I can respect that.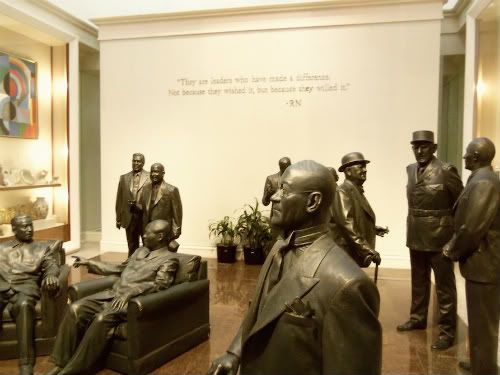 Apparently, two important issues during the Nixon years were "space" and "crime."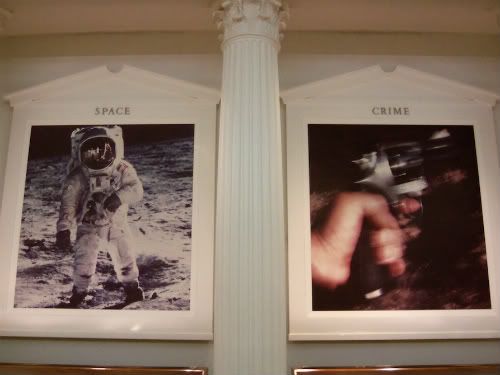 The new "Watergate" exhibit had a markedly different vibe from the rest of the exhibits...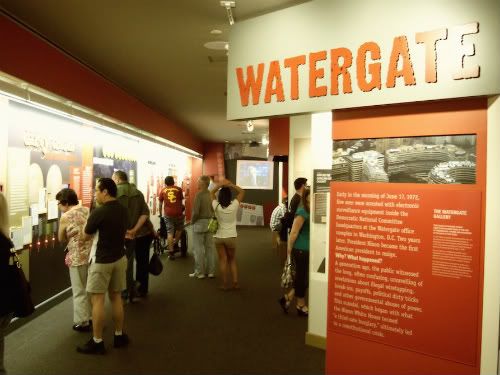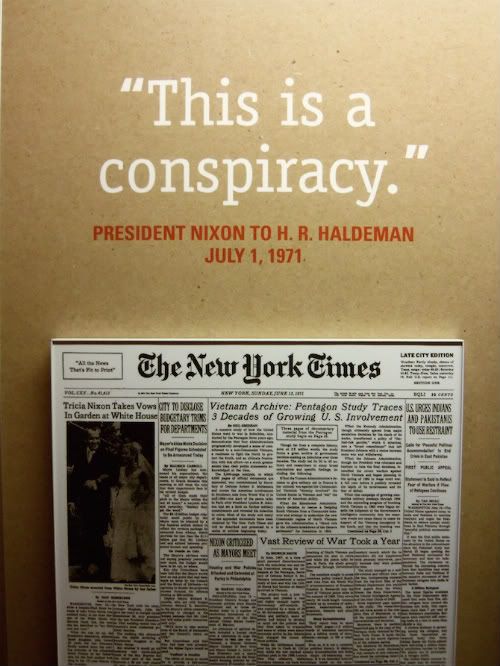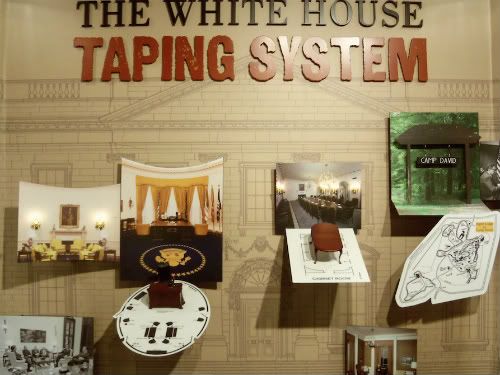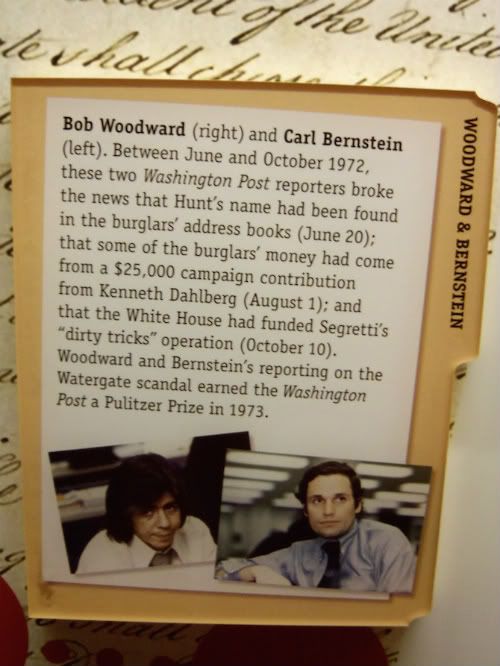 On a lighter note, there was a pretty cool new exhibit dedicated to Nixon's wife, Pat.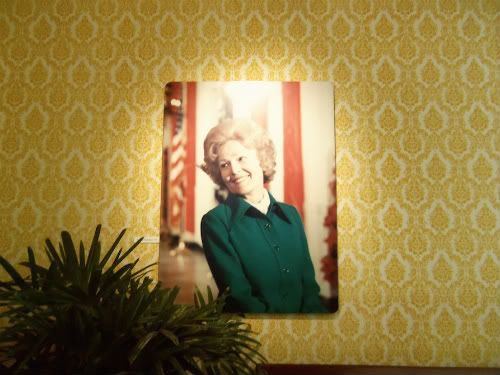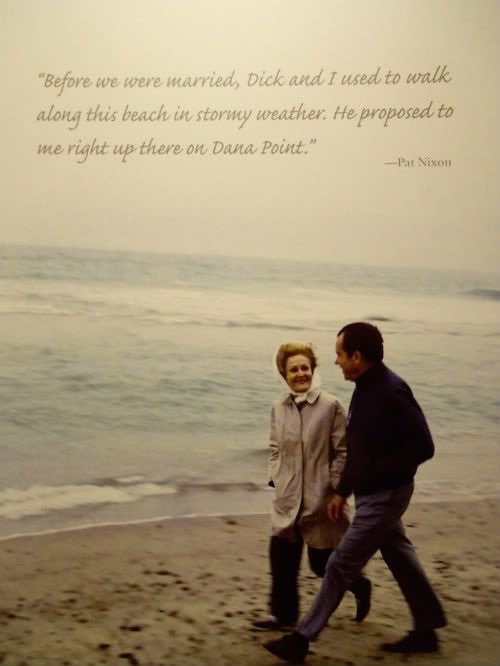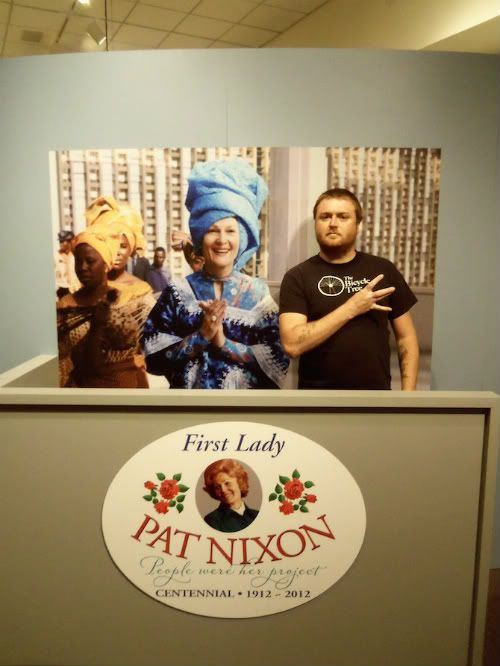 I threw up the "West Side" sign as a "shout out" to the Western White House (aka Casa Pacifica) in San Clemente, where Nixon spent his post-political years.
Outside, next to a beautiful rose garden, are the graves of Richard and Pat Nixon. I think the inscription on Nixon's grave is worth discussing. In what sense was he a "peacemaker"?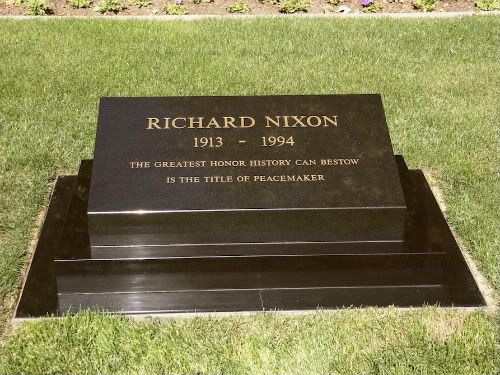 Near the gravestones lies the house Nixon was born in. A pretty humble abode...
All-in-all, the Nixon library is worth the visit, as it sheds some light on a complex man. I got a t-shirt in the gift shop that read "What Would Nixon Do?" I don't think Nixon works well as a moral compass, but he certainly was fascinating. Thanks, Joel Beers!