The following is an excerpt from a work-in-progress called The Town I Live In.
The relatively small number of African Americans in Fullerton is something that has puzzled me for a long time. It was not until I read the book
A Different Shade of Orange: Voices of Orange County, California Black Pioneers
by Robert A. Johnson and Charlene M. Riggins (2010) that I began to understand the reason why.
The main reason is historic housing discrimination. Johnson writes, "Not only were black people prevented from living in "sundown towns" like Brea and Orange, and prevented from purchasing property in areas that had racial covenants like the land that Richard Nixon's father bought in Yorba Linda, but it was almost impossible to find any apartment to rent or property to buy outside of the Truslow area" (185).
"Sundown towns" were towns where it was illegal for black people to be there after sundown. For many years, with the exception of the Truslow neighborhood, Fullerton was basically a "sundown town." The historical reality of "sundown towns" is extensively documented in James Lowen's 2005 book
Sundown Towns
.
In addition to these racist civic policies, there were widespread racist housing policies throughout Orange County, including Fullerton. The 1914 deed of ownership of Richard Nixon's father's land in Yorba Linda reads: "That no part of said premises, or the improvements thereof, shall ever be sold or leased to any individual other than of the Caucasian race."
In Fullerton, these policies were the norm. The only neighborhood where minorities were allowed to rent or own homes was on the other side of the railroad tracks, on Truslow. Mary Owens, an African American woman who moved to Fullerton in the 1940s recalls, "At first we had gone to look for apartments, and they would not rent to us. Leon [her husband] said, 'You know, we're going to have to buy a house here.' That's what happened. We bought a house, this house [on Truslow]."
Warren Bussey, an African American man who moved to Fullerton in the early 1950s, tells a similar story: "We [blacks] were only living on two blocks [he lived on Truslow as well]...Living in California at that time, it was more prejudiced than it was in Texas."
In addition to civic and housing discrimination, African Americans in Orange County also faced violence and terrorism from their racist white neighbors. A 1956 article from the Orange County Register entitled "Fire Bomb Hurled into Placentia Negro's Home: Children Periled" tells the story of the Harris family, who lived on Orangethorpe Ave just east of Fullerton. Less than a week after this African American family moved into the neighborhood, "a molotov cocktail was thrown through their two young dauthters' bedroom window, catching the curtains on fire and singeing the bed."
Another African American family couple, Ann and Jim Hillman, moved to Orange. The first night they moved in, someone through eggs and potatoes at their house and wrote "Negro go home" on their door.
Warren Bussey's house in Fullerton and the African American Masonic Temple in Santa Ana where he was a member both burned down.
Because of this widespread climate of racism, exclusion, and violence, it is not surprising that the African American population in Fullerton stayed pretty low. Between 1920 and 1950, the African American population in Fullerton skyrocked from 18 people to 57 people, roughly .01 percent of the population.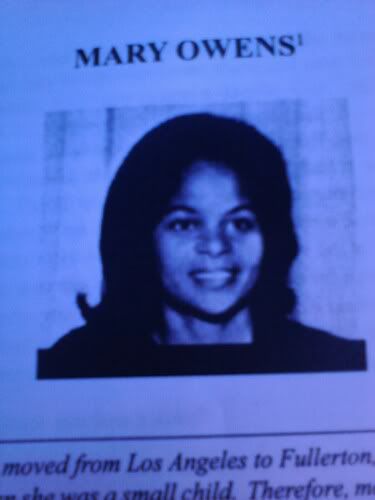 Mary Owens, who has lived in Fullerton since the 1940s. She founded the Leon Owens Foundation to support high school and college students.