The following is an excerpt from a work-in-progress called The Town I Live In.
Max Bloom's Cafe Noir
, located on Malden in Downtown Fullerton, hosts open mic Nights, movie nights (where they show classic movies), and other free events that hi-light local creativity and dialogue. The other day, I was ordering coffee there when I saw a printed "Mission Statement" on the wall. I asked the owner, Kevin, for a copy because I thought it was pretty relevant and important. Here it is:
Once upon a time, leaders of the "Establishment" (Government and Commerce) sought to shut down the "coffee house" for fear that these independents woudl foment the seeds of revolution by providing both a stimulant (coffee) and a forum for thinking, an activity that has threatened the hegemony of tyrants. Today, the average "coffee house" has become part of the "Establishment," transforming what has traditionally been a local enterprise into corporate behemoths that have taken a "fast food" approach to coffee in their quest for global dominance. We at Max Bloom's Cafe Noir believe that quiet reflection upon the past provides a necessary context for the present and is a precursor for projecting into the future. If the fast food approach is what you seek, there are literally hundreds of options within just a few city blocks. If you want something more, there's only one Max Bloom's. For an experience inifinitely more rewarding and sorely lacking in a sea of sameness, dare to be different...take a step back in time to the cafe noir. Remember, if it's not Max Bloom's, it's just another cuppa joe.
Note: I did not receive any compensation for this blog post. Well, sometimes Kevin gives me a free soda because I let him use my projector for movie nights. Max Bloom's is a local gem. Support the good, boycott the bad.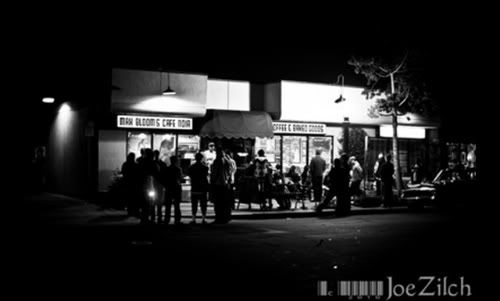 Max Blooms is located at:
220 N. Malden Ave (Between Wilshire and Amerige)
Fullerton, CA
92832
www.maxbloomscafenoir.com