The following is an excerpt from a work-in-progress called The Town I Live In.
Hubert C. Ferry worked for the Union Oil Company from 1918-1956, first in Los Angeles, and then in Fullerton. Although his degree was in law, he was something of a renaissance man for the company. He worked "in a supervisorial, managerial, legal, administrative, or official capacity."
As I read the transcript of a 1975 interview with Ferry for the CSUF Oral History Program, my initial impression of Ferry is that he was a very well-informed, service-oriented man who really believed he was working for a service industry. He said, "Considering the magnitude and hazards involved, the petroleum industry is performing a miraculous service with an outstanding safety record." I'm not sure he could make that claim today.
But what really strikes me about this interview is how deeply embedded Ferry was, not just in Union Oil, but in the political, municipal, and civic life of Orange County:
He was on the Board of Directors for the Metropolitan Water District of Southern California.
He was on the Advisory Board of St. Jude Hospital.
He was on the Orange County Planning Commission.
He was on the Advisory Committee of the Los Angeles County Air Pollution District.
He was on the Advisory Committee of the State Board of Health.
He was Chairman of the Citizens Advisory Committee to the Orange County Transit District.
He was Chairman of the Committee that financed the building of the current City Hall in Fullerton.
What business does a guy who worked for a major oil company for 38 years have on all these civic and municipal committees? I have to wonder whose interests he was representing on all those committees and boards. I suspect he was representing his employer, Union Oil. It is more than a little disturbing that a guy from an oil company was so deeply embedded in governmental and civic affairs.
Is this why Los Angeles and Orange County are so polluted?
Is this why Southern California has such shitty public transportation?
I can't blame it entirely on Mr. Hubert C. Ferry. But I think he is representative of a continuing reality of American civic and political life. Big oil is way more involved than most people know. When I ran for city council in 2010, I was contacted by two different employees of Chevron, wanting to meet with me. My response was, "No thanks." What I wanted to say was, "Fuck off."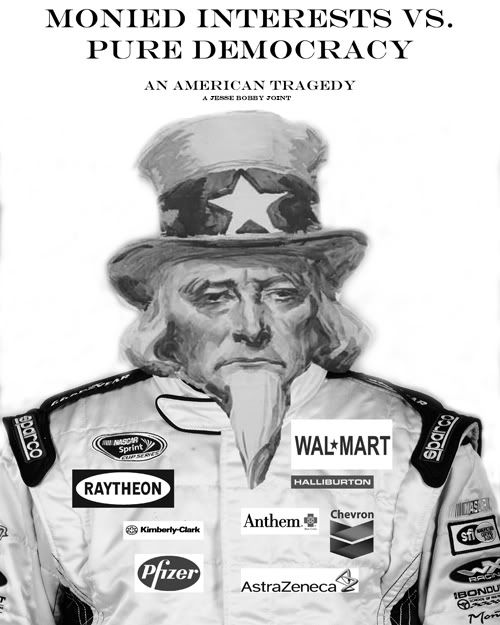 This is a fake movie poster I made for an upcoming show at
BOOKMACHINE
.