"Nothing gets old or worn or dirty here because if it does the police come in and kill it."
--Philip K. Dick on living in Fullerton (1972)
Anyone who has seen the films Blade Runner, Total Recall, A Scanner Darkly, Minority Report, Paycheck, Next, Screamers, or The Adjustment Bureau is at least familiar with the work of science fiction author Philip K. Dick, who was one of the most prolific and critically acclaimed writers of the 20th century. He earned science fiction's highest honor, the Hugo Award, in 1963 for his novel "The Man in the High Castle." In his lifetime, Dick published 44 novels, and approximately 121 short stories.
The impact of Philip K. Dick's ideas about modern life cannot be underestimated. In a 2002 article from the New York Times Review of books entitled "It's Philip Dick's World, We Only Live In It," Laura Miller explains Dick's influence on postmodern literature: "Dickian devices and themes--implanted memories, commodified identities, simulacra--haunt contemporary literary fiction…The naming of years after corporate sponsors in David Foster Wallace's Infinite Jest, the downtrodden, stigmatized souls in George Saunders's futuristic short stories, with their degrading theme park jobs, the dream worlds Haruki Murakami's characters tumble into and out of--all partake of Dick's peculiar mixture of wretched ontology and underdog sympathies."
Philip K. Dick's place in the pantheon of contemporary American writers is well-established and well-known. What is NOT well-known is that this literary titan spent the last years of his life in Fullerton, California, and that some of his best and final work (like A Scanner Darkly) is actually set in Orange County. He moved here after a mental breakdown in 1972. "There is nothing more reassuring to someone who's gone through an acute identity crisis than clean plastic apartments, streets, restaurants, and furniture," he wrote, "Nothing gets old or worn of dirty here because if it does the police come in and kill it."
It was at his residence in Fullerton that Philip K. Dick had his famous "Religious Experience" after being mesmerized by the Christian fish necklace of a prescription delivery woman. His visions of God and the afterlife were documented by cartoonist Robert Crumb.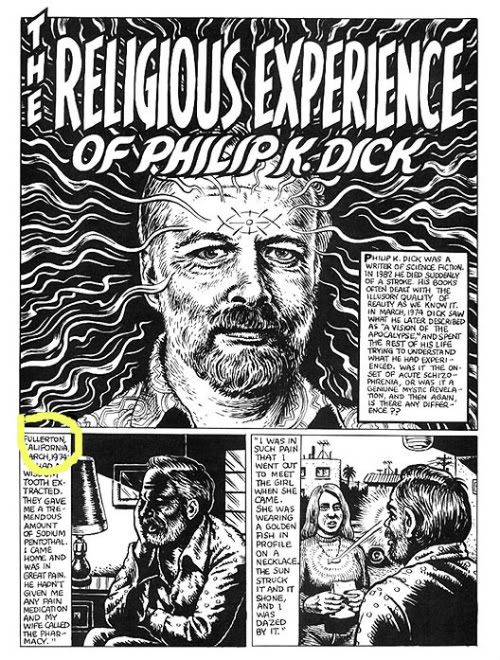 My friend Kevin Malone first told me about Dick's roots in Fullerton, and about the special collection of Dick's letters and manuscripts at the Cal State Fullerton Library, during a late night bar conversation. I sort of forgot about it until I recently watched the film A Scanner Darkly, which is set in Anaheim, California. There is a scene where a drugged-out Winona Ryder asks Keanu Reaves, "Will you take me to a concert at Anaheim Stadium?" I was like, "Holy Shit." Kevin wasn't kidding! Plus, it makes a lot of sense that a man who questioned the nature of reality over and over would choose to live and write about a place as artificial as Orange County, which sometimes seems like science fiction made real.
Dick's vision of Orange County is not a pleasant one, which probably explains why the City of Fullerton doesn't celebrate or even acknowledge him. Kevin told me that he tried to add Philip K. Dick to the City of Fullerton wikipedia page, but it was repeatedly removed. "They have a porn star on there, but not Philip K. Dick," Kevin said, "It's absurd." It may be absurd, but it's very "Dickian." Just like in the film Minority Report, the authorities do not want certain history to be remembered.
Today I visited the Special Collections of the Cal State Fullerton Library…a rather uninviting little area tucked away on the third floor. Because most of the lights were off, and I was the only visitor, I surmised that the Special Collections room is not a popular place to hang out. I asked the friendly librarian if I could check out the materials they had on Philip K. Dick. She gave me a catalogue to browse, and I was blown away at the amount of material they had…manuscripts, letters, articles, all filed in boxes in the archives. I requested "Box 25" and the librarian brought it to me. I felt a sense of sacredness as I leafed through the yellowed letters and news clippings. Here are some things I found which prove definitively (suck it, wikipedia) that Philip K. Dick both lived and died in Fullerton, California.