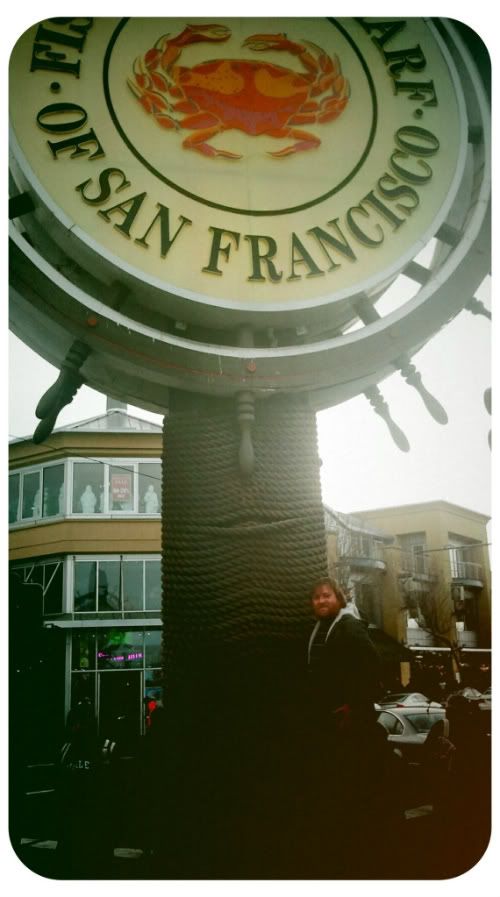 Landon and I drove up to San Francisco on Friday to visit our friends Brian and Christie. On the way up, we listened to the audiobook Me Talk Pretty One Day by David Sedaris, which is a really funny book. We also listened to "Ride the Lightning" by Metallica, which we both agreed is a pretty kick-ass album.
We got into town around 7, just in time for Christie's art show at a pretty swanky loft apartment. The show was called "That Wasn't Too Easy." Christie's piece, which used a lazer, was the best piece in the show, in my opinion.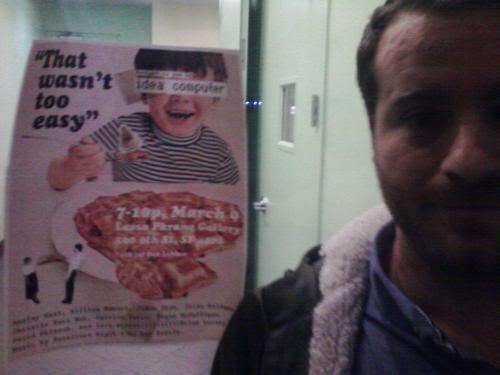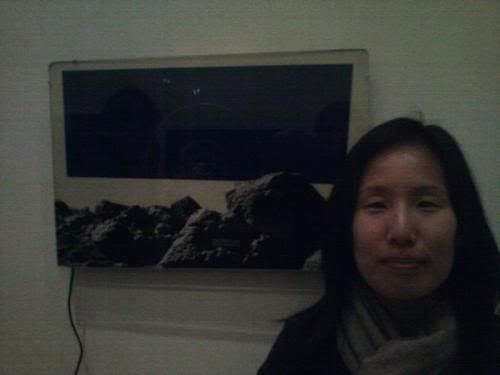 Afterward, we went out to a cool bar called "Uptown" that had really great music on the juke box. I chose four songs: "Can't Get Enough of Your Love" by Barry White, "What's He Building in There" by Tom Waits, "Revolution Rock" by The Clash, and "Heart of Gold" by Neil Young.
Landon played a Lord of the Rings pinball machine and had a really good game. We called him the "pinball wizard" which is a pun referring both to the song by The Who, and to the wizard Gandalf from The Lord of the Rings.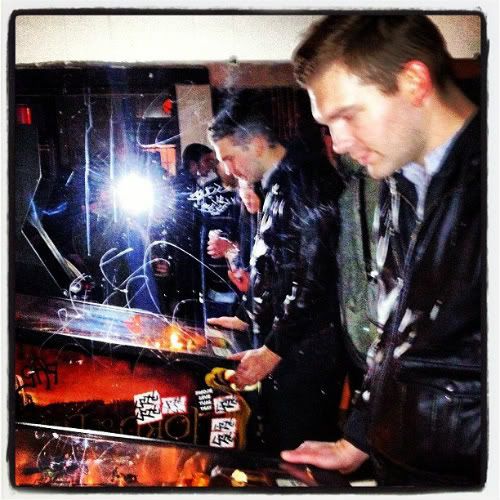 We took the bus home from "Uptown" and, on the bus, this guy was hitting on this girl, and she clearly felt uncomfortable, but he was relentless. He kept talking about his favorite foods. The funny thing was there was this old, drunk homeless guy sitting right next to them who was clearly hungry. Whenever the guy mentioned a food item, the homeless guy's eyes would light up and he would say things like: "Mmmm Hmmmm…Nothin' wrong with that…Nothin' wrong with macaroni and cheeeeese." Landon got a terrible case of the giggles.
That night I had a dream where Landon was crying and I cried too, because I could tell he was really sad. I gave him a big long hug. Later, I told Landon about my dream and said, "I know you've been going through a rough time, so if, at any time on this trip, you feel you need to cry or hug me, you have an open invitation." He took me up on the offer.
On Saturday morning, I woke up before everyone else and took a walk to Haight/Ashbury, which is a famous place for hippies. The Grateful Dead were from here. On the way back, I found a snowboard that had a "free" sticker on it, so I carried it back to Brian and Christie's apartment. Free snowboard!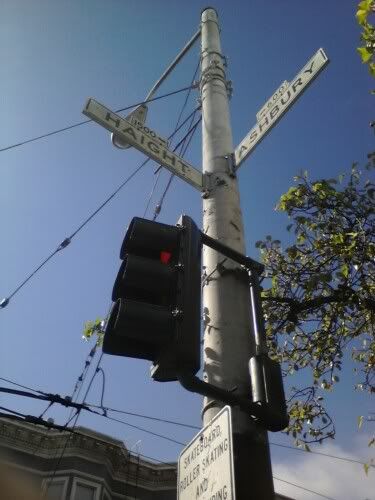 Walking around San Francisco, I kept thinking, "Wow, what a cool city." The houses are these really ornate, tall, Victorian things…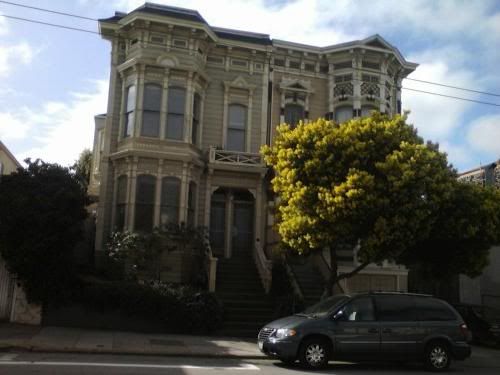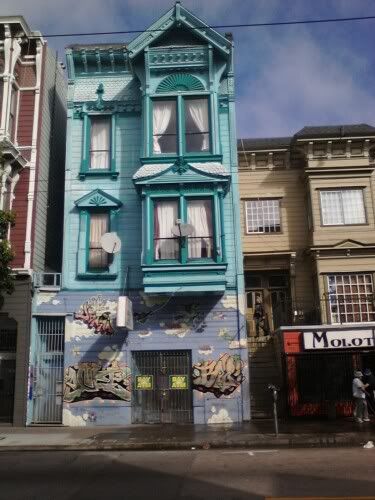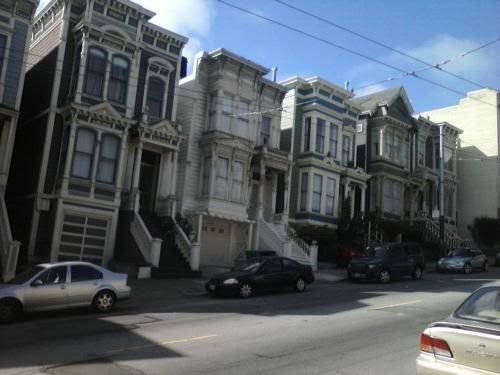 There is a lot of creative street/public art…
There are cool record stores...
Independent book stores...
There are wide bike lanes because bicyclists are welcomed here and not seen as an annoyance, as they are in Orange County…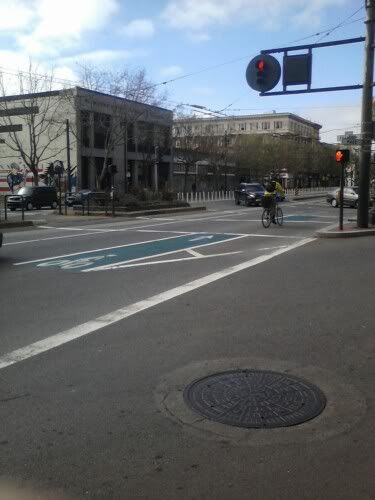 There are hippies…
I don't think living in a big city like San Francisco would suit my temperament, but it is truly an inspiring place. The next morning, we got a delicious breakfast at "Kate's," a little diner on lower Haight.
Christie went to go de-install her art show. Brian, Landon, and I decided to do some sight-seeing. I really wanted to go to the Fisherman's Wharf, but Brian and Landon were skeptical because that is a real "tourist trap." I convinced them, and it turned out to be a really good time. We saw some sea lions…
We saw Alcatraz (aka "The Rock")…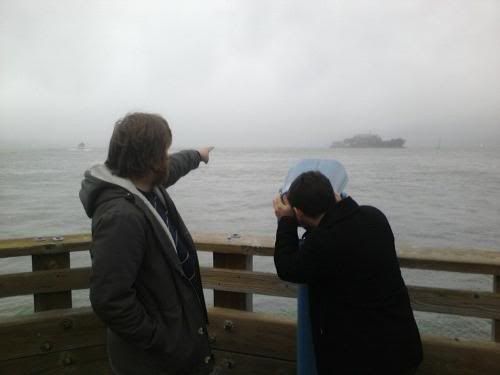 We went to the Musee Mecanique, which is one of my favorite museums ever. It has all these really old mechanical arcade machines, some over 100 years old. There was an employee riding around on rollerskates. We took a picture in a photobooth there.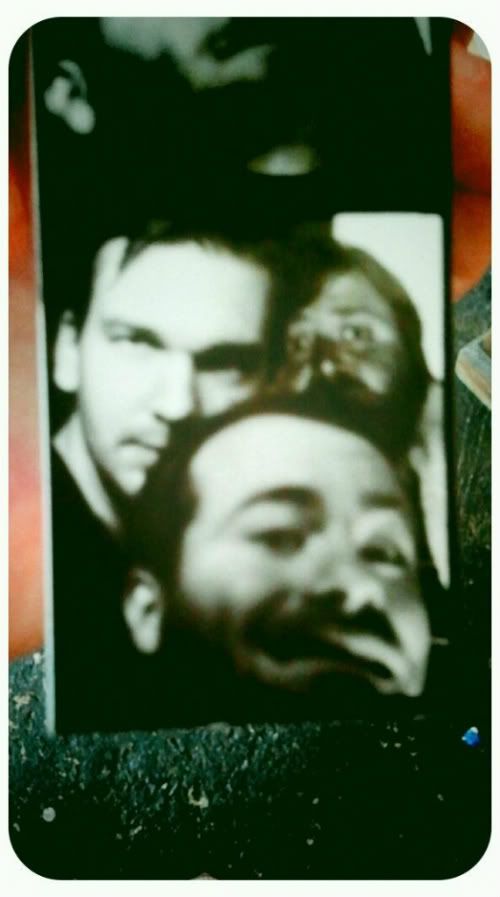 Then we got some famous San Francisco seafood: shrimp, fish, crab chowder. Tasty.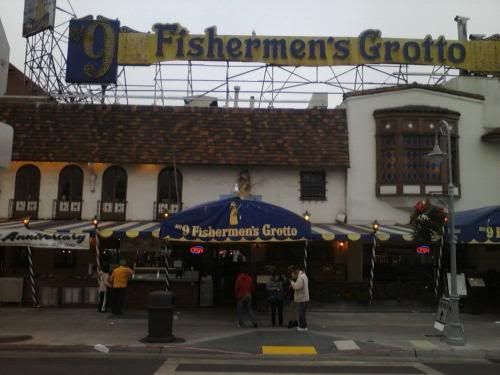 We had planned to get Thai massages, but instead went to the famous City Lights book store in North Beach. This was the place where Beat poets like Jack Kerouac and Allen Ginsberg used to hang out, back when people cared about poetry and books. I picked up a book of poems by Jack Kerouac, a novel by Jack London (an San Francisco native) called John Barleycorn. I read the introduction and apparently Jack London was a real badass literary celebrity. I also picked up some cool local zines, because I also own a book/zine store (not yet as famous as City Lights).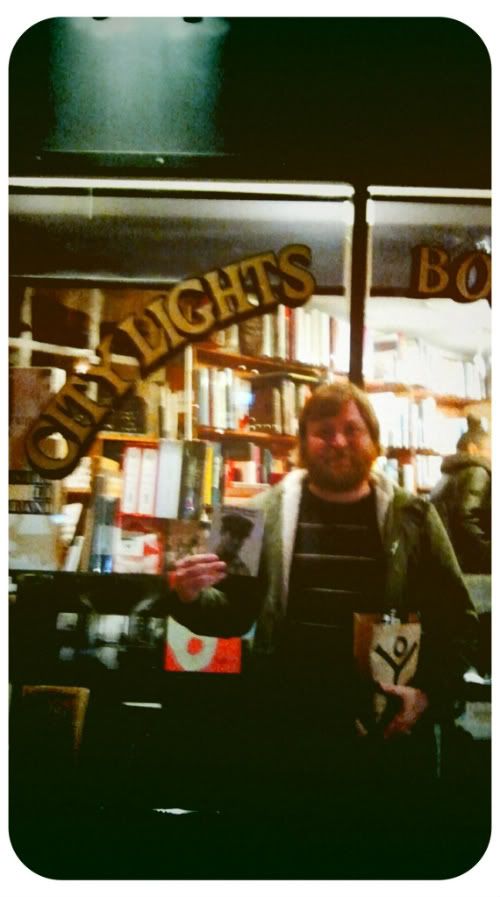 On the drive back home on Sunday, Landon and I stopped at a truck stop for gas, and I picked up an audiobook called Marbleface. It was a western book about a prize fighter with a "bad heart" who becomes a cowboy. We couldn't finish it, because the writing was really cheesy and bad. This was funny for about an hour, but then it became not funny, and just annoying.
We also stopped at the famous Anderson's Pea Soup Restaurant in Santa Nella. I got a huge monte cristo sandwich.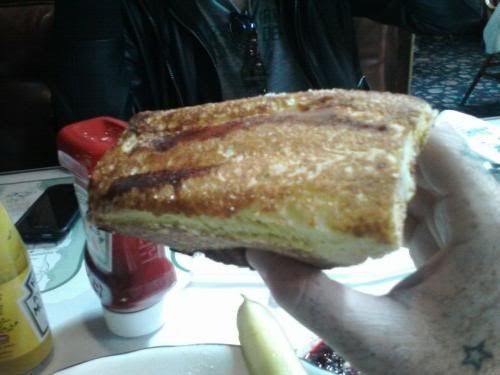 As we got back into town, we both agreed that this was a good trip for both of us, that San Francisco is a city of "good vibes" and is good for the soul.