It's my grandma Sally's birthday. She is 81 years young!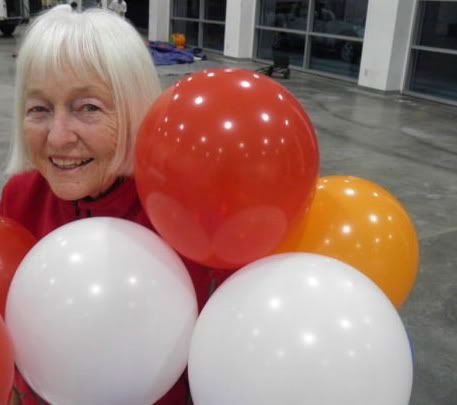 Here are some things I like about grandma Sally:
1.) She hand-knitted me a cardigan sweater, despite the fact that she has Parkinson's.
2.) She makes hand-stitched pillow cases and quilts with Bible verses on them for every member of her family, which is a very large family.
3.) She is humble.
4.) She is really good at cards (and competitive).
5.) She survived polio.
6.) She reads a lot.
7.) She was married to the same man for over 60 years, until he passed away.
8.) She bakes amazing bread.
9.) She makes a fantastic dish with a very vague-sounding name: Bake dish.
10.) She comes to the Downtown Fullerton Art Walk every month.
11.) She has a cool hairstyle.
12.) She is genuinely kind to everyone, even strangers.
13.) She is very compassionate.
14.) She has a list of people she prays for every day, some of whom do not know that she prays for them every day.
15.) She is non-judgmental, especially toward drug addicts, alcoholics, and criminals. She is the kind of person who writes letters to people in prison or rehab.
16.) Even though her father was very wealthy, she has never been very wealthy, nor has she tried to become wealthy. She has always lived a simple life.
17.) She is well-loved by my friends.
18.) She likes zines.
19.) She hand-writes letters and cards.
20.) She is on Facebook.
21.) For people's birthdays, she makes a cake with a lamb mold, which she calls a "lammy cake."
22.) She plays the piano.
23.) When my mom was in the hospital with breast cancer, she sometimes spent the night at the hospital in my mom's room.
24.) She walks with a cool pink cane.
25.) She likes Johnny Cash.
26.) She lived for many years in a town with a population under 400 people (Endeavor, Wisconsin).
27.) She likes the show Colombo as much as I do.
28.) She knows Florence Henderson (the mom from The Brady Bunch).
29.) She was around before television existed.
30.) Even though she does not think much about "style" or spend much money on clothes, she has really cool style.