When some friends and I started
Hibbleton Gallery
, our audience was mostly young people, people in their 20s and 30s, fellow artists like us. For a long time, I sort of saw us as providing an alternative to the "older" more established art venues in town. And this was important.
But now that we are part of the
Magoski Arts Colony
and the
Downtown Fullerton Art Walk
, our audience is more diverse, people of all ages. We share a building with other art venues and galleries, and now we are not just a place for "young" artists, but for everyone.
Last month, our featured artist was Marjorie Kerr, a woman who has been making and showing art in Fullerton for over 30 years. Through Marjorie, we met a lot of the older generation of artists in Fullerton. Apparently, art in Fullerton has gone in waves. There used to be more galleries in the 70s and 80s. In the 90s, they mostly went away. Now, they are coming back.
Next month, we are celebrating the two year anniversary of the Downtown Fullerton Art Walk, in conjunction with the
Fullerton Museum Center
. It will be a huge event in the Fullerton Museum Plaza, with outdoor art stuff and live performances. I feel like bridges are being built between the different generations of artists--young and old, and this feels like a true community thing.
My good friend Bob Jensen, the dean of
fine arts at Fullerton College
, is on the committee to plan the Art Walk two-year anniversary, and so am I. Bob and I represent different generations of artists coming together, and I am legitimately excited about this.
The next Downtown Fullerton Art Walk is this Friday, February 3, from 6-10pm. As always, it is free.
The two year anniversary event will be Friday, March 2 from 6-10pm, and will also be free.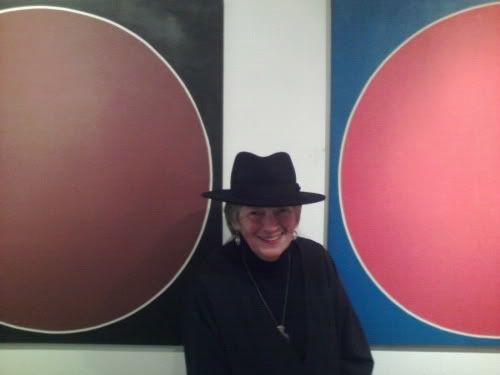 Marjorie Kerr