The following is an excerpt from a work-in-progress called The Town I Live In.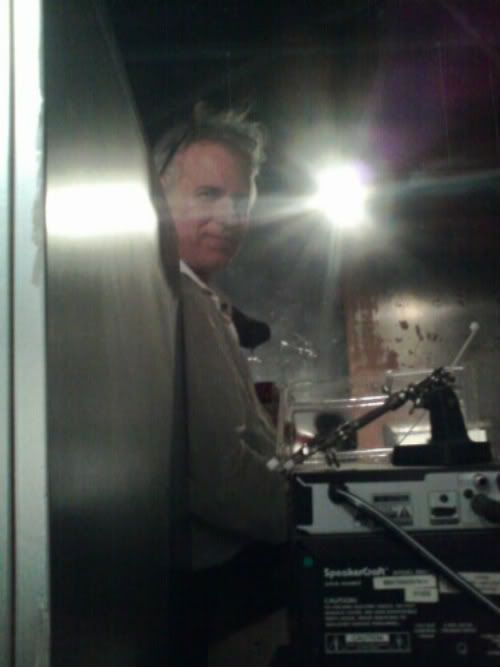 The other evening, I was in
Bookmachine
, organizing some used books, when I ran into Mike Magoski, who owns the
Violet Hour studio
, next to Bookmachine. Mike and I got talking about books. We agreed that selling books, in this culture and in this place (Fullerton) is difficult. Books are not cool. We started talking about ways to help people see that books are cool. Mike had the idea for me to read from books during the
Downtown Fullerton Art walk
, and then talk about them. Then we got the idea to do a podcast-type show where we read from books and talk about them. 15 minutes later, we were recording our show in Mike's studio. Artist Valerie Lewis was there as our "audience" and contributor. Mike played music, I read poems by Arthur Rimbaud and wrote a few poems. We drank wine. We talked about books, music, the railroads, the 1920s LA Modern art scene, and we felt like were were on to something. The next day, I edited the show we recorded into the first "Violet Hour Radio Show." Here it is:
And here is a poem I wrote on my old typewriter and read during the show, called "hello this."
hello this
i summer in new orleans
by a sleeping cat i sit and read rimbaud
the sound of mazzy star from an old radio
and a single old black man laughing
new orleans. unreal city unreal city
shall we at least set our lands in order?
london bridge is falling down falling down falling down
but i am here, the water stains three feet high
on the walls of a hostel. and we are all of us here
together. a man from india a woman from england
i just decided to travel for a year.
and me ridin the rails. ultimate irony
that from such ugliness i might be born
upon this adventure of peace and freedom.
Arthur Rimbaud