When people think of retirement communities, they do not normally think of intense political activity; however, Orange County retirement communities like Leisure World have, historically, been hotbeds of political campaigning.
During the 1960s and 1970s, residents of Leisure Worlds in Seal Beach and Laguna Hills were heavily recruited as volunteers to help elect senators, congressmen, and even presidents Nixon and Reagan.
Former OC Republican Party Chairman Lois Lundberg describes a fundraiser to elect Republican Senator George Murphy: "After planning and much strategizing we decided that while we wanted the public in large numbers, we really wanted the volunteers to be specially treated at this important occasion...We arranged for many buses to bring volunteers from two Orange County Leisure Worlds."
One interesting aspect of Leisure Worlds in Orange County is that no children are allowed to live there. Describing the plans for Rossmoor Leisure World in 1961, historian Leo J. Friis writes, "Plans include a golf course, three club houses, hobby centers, a 2,500 seat ampitheater with retractible roof, and a twelve and one-half acre shopping plaza. There will be no school as no children will live in the community."
Leisure Worlds were, and are, isolated enclaves of senior citizens, with little interaction with the outside world, and no children. It is more than a little frightening that they were the targeted volunteer base for the Republican Party for a long time, and now the Tea Party.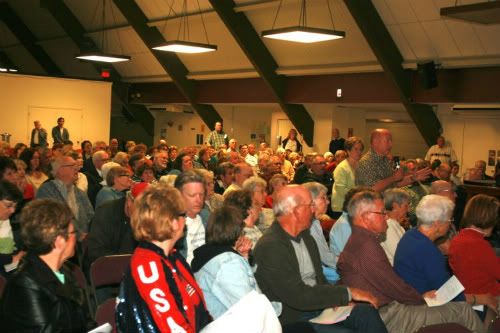 Tea Party Rally, Leisure World Seal Beach, April 13, 2011