My friends Morgan and Jeremy from
Inside Fullerton
have made a community magazine about Fullerton called
Votre Fullerton
. You know how lots of community magazines are like 80 percent ads, and even the articles seem like ads? Well, Votre Fullerton is a real magazine that has real articles. I contribute a monthly column called "Character Sketches" where I write about interesting people in Fullerton and draw them. Here is last months column, and be sure to pick up a copy of Votre Fullerton at a variety of locations in Fullerton, including
Max Blooms Cafe Noir
and
BOOKMACHINE
.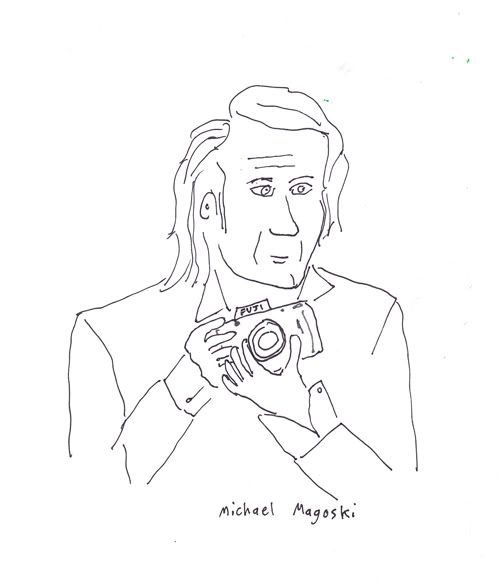 The first time I met Mike Magoski, he was wearing black leather pants. He was bartending at Table Ten, a now-defunct bar in Fullerton. It was a local hangout for artists and musicians. I remember talking to Mike about J.D. Salinger.
A few years went by, and I would see Mike occasionally, usually at Table Ten. Then my friend Colleen had a birthday party at Mike's art studio,
The Violet Hour
, in an old warehouse on Santa Fe. Walking into that studio was like walking into another world, into a funhouse explosion of creative passion. It was filled with photographs, paintings, mannequins, oversized rabbits. I felt like Alice tumbling down the rabbit hole into another world. My first thought was, "I can't believe a place like this exists in Fullerton."
Another few years went by, and I ended up opening an art gallery (
Hibbleton
) with some friends downtown. And then we started the
Downtown Fullerton Art Walk
, and Mike and his wife Candace were involved. They opened their studio to the public once a month.
A couple years went by, and our gallery almost went out of business, because it's hard to sell artwork in a recession. It was at this moment that Mike invited us to move into the warehouse next to his, and offered us a rent we could afford. Since we moved there, I have watched as Mike has slowly turned this warehouse into a true art colony. We now have three galleries, a number of art studios, and it just keeps growing.
We called it "The Magoski Arts Colony." Mike has given a space for the arts to flourish in Fullerton, even in the midst of a struggling economy, perhaps at a time when the arts are most important. Mike Magoski (photographer, writer, visionary) is like the Andy Warhol of Fullerton (sometimes he even looks like Andy Warhol), giving a home and a gathering place for artists, writers, musicians, and dreamers.
The Magoski Arts Colony
is located at:
223-225 W. Santa Fe
Fullerton, CA
92832