Last night I went to the Frontier Records 30th anniversary show at the Echoplex. It was an all-star lineup of bands: Adolescents, TSOL, The Stains, The Flyboys, The Avengers, and more.
But the band I went to see was The Middle Class, hardcore pioneers who hadn't played a show in 30 years. The guitarist, Mike Atta, is a friend of mine who owns the super cool Out of Vogue store in downtown Fullerton.
I had heard a couple songs off their 45 single, but was unprepared for how cool they would be live. These guys are in their 50s, and they played music that was more interesting and relevant than anything on KROQ these days. I could tell Mike was having a blast up on stage.
Kudos to you, Middle Class, for rocking my ears off. I hope you play more shows.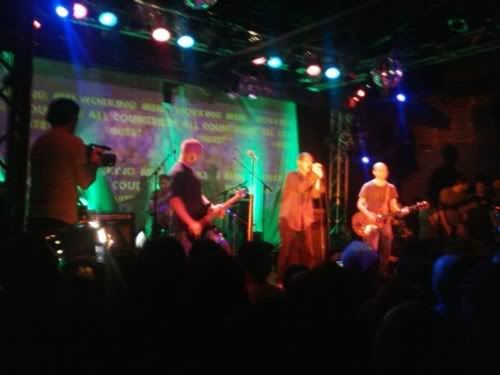 There's Mike Atta on the far right, and his brother on vocals.
Here's their song, "Out of Vogue". Dig it!