Months ago, after the closing of Van Gogh's Deli in downtown Fullerton (a late night guilty pleasure), I noticed that a new place was opening up called Les Amis. I assumed that they were going to be a French cafe. However, a few days ago, my friend Amy told me Les Amis had just opened and that they had tasty (and cheap) Lebanese food. I LOVE Lebanese food (esp shawerma), but usually have to go to Orange or Anaheim to get it.
So, today, I had lunch at Les Amis, and it was both delicious and cheap! I got the chicken shawerma, with a side of chips and hummus. It was a big, flavorful meal, and it was only 5 bucks! I'm so happy Les Amis is here, and you should all go check them out! Downtown Fullerton needs more places like this--unique, good food at reasonable prices.
Les Amis is located at 128 W. Wilshire Ave C, in downtown Fullerton (Where Van Gogh's used to be).
Here is my delicious chicken sandwich: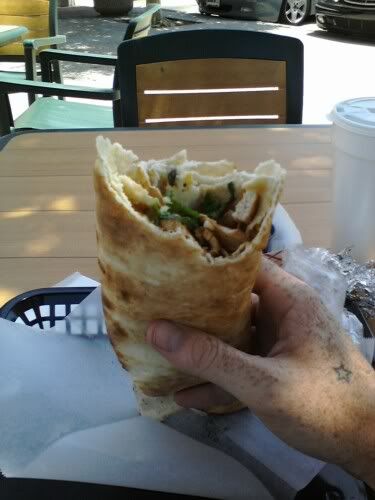 Here is their menu: delicious and affordable: